Upholstery Cleaning Kent
Booking Line - Mon-Sat, 9AM-6PM.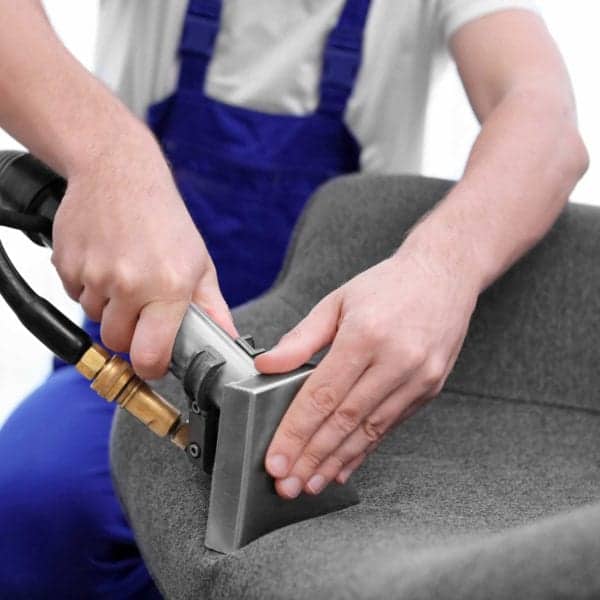 AAAClean specialises in professional upholstery cleaning Kent, East Sussex and the surrounding area. We are an established carpet and upholstery cleaning company who are proud to deliver customer satisfaction on every job we undertake. All AAAClean upholstery cleaners Kent are highly knowledgable and experienced in cleaning all types of upholstery including sofa cleaning, armchair cleaning, three-piece suite cleaning and all other types of upholstery cleaning in Kent and East Sussex.
Every professional upholstery cleaner Kent is equipped with the most advanced upholstery cleaning equipment. We use a hot water extraction system that reaches the roots of all upholstery fibre – eliminating dirt, stains and bacteria. Our upholstery cleaning method is the best in the business to clean, disinfect and deodorise fabrics, it also leaves your upholstery almost dry and extends its life span too. All of the detergents we use are non-toxic and eco-friendly.
Our upholstery cleaning services in Kent will give your upholstery a fresh and long lasting look, leave it smelling good, sanitised and stain free. The equipment we use is specifically designed to deliver professional cleaning for all types of upholstery. Our professional upholstery cleaners in Kent can remove all types of stains including food, drink, head grease and other grubby marks and soiling.
Our booking process is completely automated. We charge a fixed price for all upholstery cleaning services in Kent. To book upholstery cleaning visit our booking page, choose a date, enter your address and we can send a local upholstery cleaner Kent within 24 hours from now to clean your upholstery. We don't require any payment upfront and you can pay by cash or card on the day of cleaning.
Professional Upholstery Cleaners in Kent
How We Clean Upholstery
There are two types of upholstery cleaning methods that we use that both achieve excellent cleaning results. For most Kent upholstery cleaning we will use hot water extraction cleaning but for delicate or natural fibre upholstery we may use a dry cleaning technique. The steps below outline the process we take for all hot water extraction upholstery cleans we undertake:
Step 1 – Pre-vacuum and preparation
Before we perform a full hot water extraction clean of your upholstery, we pre-vacuum and prepare your upholstery ready for cleaning first. This involves using an upholstery tool to get in to all the nooks, crevices and creases of your upholstery, eliminating loose dirt and dust particles.
Step 2 – Stain and spot removal
Once your upholstery has been dry cleaned, we test and treat all spots and stains on the upholstery fabric. Stains are treated with an appropriate stain removal solution which loosens the ingrained stain prior to being dabbed clean with a white terry towel. Our professional Kent upholstery cleaners then repeat this process with all spots and stains before we move on to the next step.
Step 3 – Cleaning solution application
Before we wet clean your upholstery we have to pre-spray it with the appropriate cleaning solution. The cleaning solution is applied to your upholstery with an industrial grade pressure sprayer. The solution is left on your upholstery for approximately 5 minutes to loosen up any remaining soiling, dirt or dust on the fabric fibre.
Step 4 – Upholstery mitt cleaning
Next a AAAClean professional upholstery cleaner will use an upholstery cleaning mitt that is dipped in a special hot solution before being wiped on your upholstery fabric to attract any dirt that's still present in the fibres. We rinse the mitt and repeat this process as much as necessary before we start hot water extraction cleaning.
Step 5 – Hot water extraction cleaning
We use our powerful hot water extraction cleaning machines to extract any remaining soiling from the upholstery fabric. A powerful pump injects hot water and solution deep in to the fibres whilst 2 x vacuums extract the hot solution and any dislodged soil along with it. We dry pass the upholstery tool over the fabric until all of the moisture is removed.
Step 6 – Fibre grooming
Now the hot water extraction clean is complete, we groom the fibres of your upholstery with a special upholstery brush to ensure the pile dries in the correct fashion.
Step 7 – Deodorise
To complete the process we spray your upholstery with a dual sanitiser and deodoriser that kills off any remaining bacteria that survived the clean, whilst leaving your upholstery with a pleasant smell. Various fragrances are available – just ask your technician.
Upholstery Cleaning FAQ
Q. How often should I have my upholstery cleaned?
A. We recommend you clean your upholstery once every 12-18 months. You should vacuum your upholstery regularly as you do with your carpets, but having an annual upholstery clean will ensure that it lives a long life and be aesthetically and hygienically clean.
Q. What method do you use for upholstery cleaning?
A. We use the hot water extraction cleaning method. Is the most safe and effective method of upholstery cleaning available today. A high pressure pump injects hot water and solution in to your fabric fibres, whilst powerful twin vacuum motors extract the hot solution and dirty water. This process extracts up to 98% of moisture from your upholstery and is what helps us to guarantee quick drying times with every clean.
Q. How long will it take for my upholstery to dry?
A. Upholstery cleaning takes a little longer to dry than carpet cleaning. Most fabric fitted to upholstery absorbs water much easier than carpet and we can only get so much purchase on rounded corners and awkward crevices on your upholstery. Most upholstery will be dry within 6-8 hours, but for upholstery that needs deeper cleaning or for certain types of fabric in a worst case scenario you could be looking at up to 24 hours.
Q. What type of upholstery can you clean?
A. We can clean all types of upholstery including sofas, settees, mattresses, armchairs, footstool and even car upholstery.
Q. What stains can you remove?
A. We can remove any stain you can possibly think of. Our powerful machines twinned with our top of the range cleaning solutions mean we can tackle all types of stains such as food spillages, fizzy drinks, wine, tea, coffee, blood, ink, oil, grease and tar.
Q. Can you remove pet stains?
A. Yes, but time is of the essence. This is often the case with most upholstery stains. The quicker we can clean it, the more likely it is for it to come out.
Q. Can you apply stain protection to my upholstery?
A. Yes we can. We use Fluoroseal Plus from Prochem for all stain protection jobs. If you're upholstery had stain protection (Scotchgard) applied previously we would highly recommend to have it applied again once the cleaning is done.
Q. Is there a minimum cost for upholstery cleaning?
A. Yes. As with all services that we offer, we require a minimum service amount of £100.
Q. Are you available at weekends?
A. Yes. Our upholstery cleaners Kent work from Monday-Sunday 9AM-6PM. We can even work overnight on larger jobs that require flexible times.
Why Choose Us?
Fully insured local upholstery cleaners with over 10 years experience
Eco-friendly detergents & equipment which guarantees quick drying
Sanitiser and deodoriser used on every clean
No hidden extra costs!
Hundreds of satisfied customers
Safe for children and pets
Fully trained in using eco friendly products
100% satisfaction guarantee
We provide Upholstery Cleaning Services in Kent and East Sussex
We provide upholstery cleaning services in: Ashford, Battle, Bexhill, Bexley, Canterbury, Chatham, Crawley, Crowborough, Dartford, Dover, East Grinstead, Folkestone, Gravesend, Hailsham, Haywards Heath, Heathfield, Lewes, Maidstone, Margate, Rye, Sevenoaks, Sittingbourne, Tonbridge, Tunbridge Wells and Uckfield.
Booking Line - Mon-Sat, 9AM-6PM.