Curtain Cleaning Services
Booking Line - Mon-Sat, 9AM-9PM.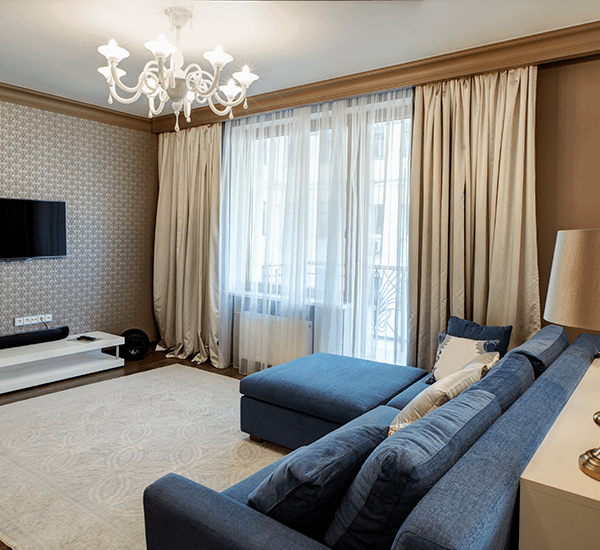 We offer professional curtain cleaning services to domestic and commercial customers throughout Kent, East Sussex and the surrounding area. We can advise on every aspect of curtain care and maintenance and provide a full non-shrinkage guarantee that ensures total satisfaction on every job.
Clean curtains are important if you want your room to look and feel clean. Over time your curtains will become stained and dirty and they will look tired. We can restore your curtains to their former glory by using specialist curtain cleaning techniques and spot treatments to gently clean your curtains, remove dust, stains and leave your curtains looking as good as new.
We clean your curtains in-situ, this helps us to deliver an affordable service with minimal fuss. We only use the safest techniques, as we understand how easily curtains can be damaged. We use recommended dry cleaning equipment and cleaning methods that can restore your curtains leaving them smelling fresh and clean.
For a free no-obligation quotation, to discuss your cleaning requirements or just to get some friendly advice, call us today on 0800 023 5205 or book an appointment instantly online using our simple booking system. If you would like a more detailed quote feel free to send us your details via the enquiry form on the contact page and we will get back to you ASAP.
The Curtain Cleaning Process
Every curtain cleaning company in Kent will have a different approach to curtain cleaning. Our curtain cleaning service is designed to be hassle free. We clean your curtains in-situ and they are available for use again immediately after we leave. Below is the process we follow on all of our Kent curtain cleaning jobs:
Pre-vacuuming – The first step of the curtain cleaning process is to pre-vacuum your curtains and brush your curtain linings. This removes all cobwebs, insects, insect frass, loose dirt and dust from your curtains. We work deep into the curtains crevices, folds and creases ensuring we remove all loose dust and fluff.
Stain Removal – Once we have finished vacuuming we then inspect your curtains for stains and take the appropriate action. Stains are first tested, then pre-treated with a spot cleaner. We allow a few minutes for the spot cleaner to take effect and clean the problem areas once more.
Cleaning Solution Application – We apply a cleaning solution to your curtains using a high pressure fogger. Applying the curtain cleaning solution with a fogger ensures that the cleaning solution is equally applied to the curtain fabric and helps to avoid over-wetting. We draw both of your curtains and apply the mist of cleaning solution for approximately 5 minutes.
Mitten Cleaning – Now the cleaning solution has been applied to your curtains, we use an upholstery mitt dipped lightly in opposite polarity hot solution. We ensure the mitt is thoroughly rung out before we begin wiping down your curtains from top to bottom. The cleaning motion and hot solution attracts all soiling onto the mitt which leavers your curtains visibly clean.
Extraction Cleaning – Once the mitten cleaning is complete, your curtains are cleaned with our powerful extraction machines to remove any excess moisture that has been absorbed whilst cleaning.
Deodorise and sanitise – to complete the job we deodorise and sanitise your curtains. We apply a deodoriser and sanitiser to your curtains which helps to kill any remaining bacteria and keeps your curtains smelling fresh. All of our East Sussex and Kent curtain cleaning technicians come fully equipped with a number of deodorisers and will provide you an option of fragrance on the day.
Curtain Cleaning FAQ
Q. Why choose us for curtain cleaning?
A. We have over 10 years experience cleaning curtains, carpets and upholstery. We provide a professional Kent curtain cleaning service for domestic and commercial customers and clean all curtains in-situ meaning minimal fuss and upheaval.
Q. How often do my curtains need cleaning?
A. A lot of this depends on your proximity to a major town or city. If you live somewhere that has a lot of traffic or industrial pollutants, you will need your curtains cleaned more often than someone who lives in the countryside for example. For an average soiled set of curtains we recommend having them cleaned every 1-2 years.
Q. What type of curtain cleaning do you provide?
A. There are two different types of curtain cleaning which both provide very good results. Full immersion dry cleaning is where your curtains are taken away to a plant and cleaned, or in-situ dry curtain cleaning – what we provide to our customers. Full immersion curtain cleaning will provide better results for heavily soiled curtains but it's much more expensive and there is also a possibility of shrinkage if not using a highly experienced curtain cleaning company. The dry curtain cleaning service we offer is more cost effective, ensures your curtains are hygienically clean and avoids any chance of shrinkage of your curtains.
Q. Can you remove all stains from curtains?
A. Mostly. Curtains are very delicate and we have to be extremely careful when cleaning them. Curtain linings are also incredibly difficult to clean especially if they are watermarked – which a lot of curtain linings are due to condensation. Watermarks are impossible to remove, but we will extract all dust and dirt that has accumulated in your curtains over time.
Q. How long does your curtain cleaning service take?
A. This differs from job to job depending on the level of soiling and size of your curtains. An average size set of lounge curtains will take anywhere from 45 mins to 1 hour to clean.
Q. Do you clean both sides of my curtains?
A. Yes. We clean the lining and front of your curtains.
Q. Can you collect my curtains?
A. No, we clean all curtains in-situ. We don't offer a collection and delivery service.
Q. Which areas do you cover?
A. We cover the whole of Kent and East Sussex and clean all curtains in-situ in your home.
Why Choose Us?
Fully insured local curtain cleaners with over 10 years experience
Eco-friendly detergents & equipment which guarantees quick drying
Sanitiser and deodoriser used on every clean
No hidden extra costs!
Hundreds of satisfied customers
Safe for children and pets
Fully trained in using eco friendly products
100% satisfaction guarantee
We offer Curtain Cleaning Services in Kent and East Sussex
We provide curtain cleaning services in: Ashford, Battle, Bexhill, Bexley, Canterbury, Chatham, Crawley, Crowborough, Dartford, Dover, East Grinstead, Folkestone, Gravesend, Hailsham, Haywards Heath, Heathfield, Lewes, Maidstone, Margate, Rye, Sevenoaks, Sittingbourne, Tonbridge, Tunbridge Wells and Uckfield.
Booking Line - Mon-Sat, 9AM-6PM.