Rug Cleaning Kent
Booking Line - Mon-Sat, 9AM-6PM.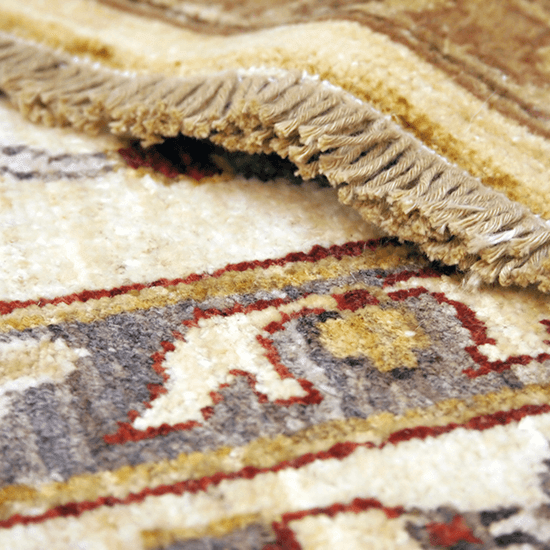 AAAClean specialise in rug cleaning Kent. We offer in-situ rug cleaning in Kent, London and East Sussex to domestic and commercial customers throughout both counties. Our professional rug cleaners in Kent are fully trained, insured and highly experienced in cleaning all types of rugs and woven fine carpets. We provide affordable prices and can extract the toughest of stains and soil from all types of rugs.
We appreciate that rugs can differ from synthetic carpets in their construction and fibre content. Because of this, we take extra care whilst cleaning your rug by discreetly spot testing and only use neutral soaps or mild detergents. In very rare cases rugs may only be dry cleaned if they are delicate or of a certain age and make up. No matter where your rug is from or what it is made of, AAAClean's professional rug cleaners in Kent can help.
We can clean Persian, Moroccan, Indian, Afghan, Chinese, Antique and Tibetan rugs made from silk, wool or synthetic fibre. No matter what we are cleaning our service is of the highest standards and the care and attention we take whilst cleaning your rug is second to none. Every rug cleaner Kent from AAAClean is highly experienced and has the knowledge and know-how to clean any household or commercial area rug.
All rug cleaning in Kent takes place at your property, meaning minimum upheaval and efficiency of service. We provide fixed rug cleaning prices which are accessible via our booking page. Select a time and date convenient to you and we can dispatch a local rug cleaner in Kent to you within 24 hours from now. We don't require any payment upfront and you can pay on the day of cleaning by cash or card.
Professional Rug Cleaners Kent
Rug Cleaning in Kent & East Sussex
Below is the process we use to clean both domestic and commercial area rugs. No matter the level of soiling or stains on your rug, this is the same cleaning process we use every time when rug cleaning to achieve excellent cleaning results for our customers.
Pre-vacuum – First we pre-vacuum your rug to ensure any loose dirt and dust particles are released from the fibres. This helps us to remove any debris that could potentially damage our machines filters and all also makes the hot water extraction cleaning process much easier and effective.
Stain removal – Now the rug has been vacuumed, we treat any spots or stains with the appropriate stain removal solution. We always test small areas on your rug before applying a stain removal treatment. This helps to prevent any dye spreading from your rug from a negative reaction to a certain treatment. We find all stains on the vacuumed carpet and apply the necessary stain removal treatment where possible.
Pre-treatment – Once your rug has been vacuumed we apply a cleaning solution to prepare it for hot water extraction cleaning. The cleaning solution is a PH balanced special rug cleaning solution that is specifically designed to clean delicate rugs and weavings. We apply the solution with an industrial grade pressure sprayer and wait approximately 5 minutes for the cleaning agent to penetrate the fibres.
Hot water extraction clean – Now your rug has been pre-treated, it's ready for a hot water extraction clean. We spray hot solution and detergent deep into the fibres of your rug. Then we extract the dirty water and repeat this process until your rug is completely clean. We generally clean rugs on a lower PSI to avoid over wetting and not to damage delicate fibres.
Pile grooming – Once your carpets have been cleaned, we ensure all pile is correctly groomed in the weave's original direction. This helps to prevent unequal drying and ensures your rug looks great once its dry.
Deodorise and sanitise – To complete the job we spray a dual sanitising and deodorising treatment to you rug. This is applied using a commercial grade fogger and helps to kill any remaining bacteria and leaves your rug smelling fresh and clean for many more days to come. Our technicians come fully equipped with a number of deodorisers, just ask them on the day if you have a specific fragrance in mind. Popular choices are apple, cherry and a citrus blend.
Rug Cleaning FAQ
Q. Why should I choose AAAClean to clean my rug?
A. We have over 10 years experience cleaning rugs, oriental rugs, kilims and tapestries. Our experienced rug cleaning technicians in Kent have the experience, qualifications and know-how to restore your domestic or commercial rugs back to their original condition. All of our technicians are fully certified and come fully equipped with the tools, equipment and cleaning solutions to ensure you are 100% satisfied with the rug cleaning we provide.
Q. Why should I have my rug cleaned?
A. Rugs usually get a high amount of heavy footfall, especially if your rug is in a entrance to your home or foyer to your business. All types of dirt, dust, debris and moisture is constantly trampled in to your rugs pile, this can cause bacteria build up, mould and mildew growth and can be extremely unhealthy for your home. Without regular rug cleaning maintenance, your rug will begin to look worn and tired over time. Having your rug professionally cleaned by an experienced and establish rug cleaning company in Kent will help to revitalise the pile, rejuvenate the colour sand make your rug last a long time for many years to come.
Q. How do you clean my rug?
A. There are 2 main types of rug cleaning which yield very good results. Full immersion where your rug is taken away and dipped in a vat of liquid. Although this can achieve very good cleaning results, there is also a risk of damage as your delicate weaves can be affected in the cleaning process. The other method is hot water extraction rug cleaning – this is the cleaning process that we use. Hot water and detergent solution is injected in to your rug fibres at up to 800 PSI, the hot water solution dislodged ingrained dirt and stains whilst two powerful vacuums extract the dirt along with any dirty hot water solution. This is by far the most popular cleaning method used by rug cleaning companies all over the world and is safe for use on all types of rugs including: Oriental rugs, Persian rugs, Indian rugs, Egyptian rugs, Pakistani rugs, Chinese rugs and Kilims.
Q. How long will it take my rug to dry?
A. Rugs usually take longer to dry than household carpets. You can expect most rugs to be completely dry within 6-8 hours. However, this greatly depends on where the rug is stored in your home and the current temperature of the property. In a worse case scenario, a rug that has been heavily cleaned which has a loose, thick pile could take anywhere up to 24 hours to be completely dry.
Q. How often should I get my rugs cleaned?
A. This differs from rug to rug, but in a usual scenario we recommend having your rugs cleaned once every 12-18 month. Of course, this highly depends on where your rug is situated. Some rugs may see very little traffic and not require cleaning this often, as opposed to a rug in a hallway entrance of a hotel for example, which see's daily footfall and lots of traffic.
Q. How are you different from other rug cleaning companies?
A. We use a special PH balanced rug cleaning solution that cleans your rug thoroughly to be sure not to damage any of your rugs fibres. Our machines are the most powerful in the business, meaning you are guaranteed to get the very best quality job possible on every rug that we clean. We're fully insured, risk assessed and all of our rug cleaning operatives are qualified to clean rugs in your home or business.
Q. What stains can you remove from my rug?
A. We can remove pretty much everything apart from watermarks. If your rug has been stored in a damp place and has watermark stains on it, there isn't a rug cleaning company in existence that will be able to remove them. For everything else, we can safely remove make up, tea, coffee, red wine, white wine, carbonated drinks, food, ink, grease and tar.
Q. Can you remove pet odours and stains?
A. Yes! But time is off the essence when it comes to pet stains. The sooner we come to clean your rug the better. This applies to most stains, the longer they are left in your fine carpet, the more likely they are to either dye/bleach the carpet fibres meaning the stain is impossible to remove. Pet odours are easier to deal with. We can use a urine neutraliser to neutralise any bad odours in you rug. The same applies for vomit and faeces.
Q. Do you offer a collection service?
A. In very rare cases we can collect your rug and clean off-site. However, this isn't very cost effective as you are paying for a delivery service and it depends on how far away you live from our offices. If you can't have your rug cleaned on-site and you need it collected and re-delivered, please contact us before booking.
Why Choose Us?
Fully insured local rug cleaners with over 10 years experience
Eco-friendly detergents & equipment which guarantees quick drying
Rug collection service available
Sanitiser and deodoriser used on every clean
No hidden extra costs!
Hundreds of satisfied customers
Safe for children and pets
Fully trained in using eco friendly products
100% satisfaction guarantee
We offer Rug Cleaning Services in Kent and East Sussex
We provide rug cleaning services in: Ashford, Battle, Bexhill, Bexley, Canterbury, Chatham, Crawley, Crowborough, Dartford, Dover, East Grinstead, Folkestone, Gravesend, Hailsham, Haywards Heath, Heathfield, Lewes, Maidstone, Margate, Rye, Sevenoaks, Sittingbourne, Tonbridge, Tunbridge Wells and Uckfield.
Booking Line - Mon-Sat, 9AM-6PM.